We are happy to be one of today's stops on K.A. Linde's Blog Tour for and her new book Take Me with You - book 2 in the Take Me series. Check out all the book & author info, teasers, excerpt and our review below and then make sure to enter the giveaway for a signed set of the series. Good luck & Happy Reading!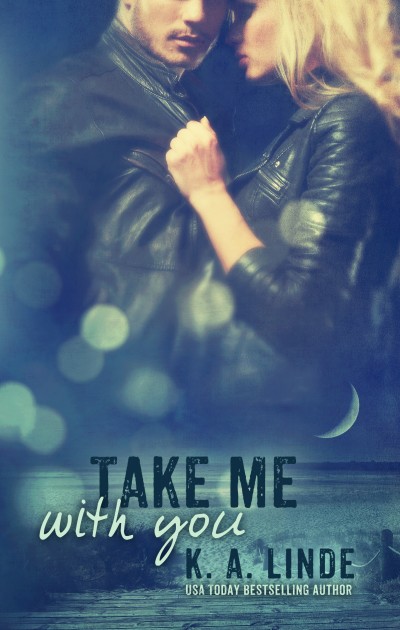 Grant
All of my demons are coming to head.
I thought Ari could push them back.
I thought I could conquer my vices with her at my side.
I thought wrong.
Aribel
Fear is my new constant.
I thought I could conceal it, contain it, control it.
I thought that now that I had Grant the worst was over.
I thought wrong.
But if we're going to survive, wherever you go…take me with you.


Grant practically bounded across the room until he was directly in front of me. Then, his hands were cupping my cheeks so tenderly that it was as if he thought I might break in half. Without a word, his mouth dropped down on mine, and the kiss was as light as a feather. It was a question, a soft and delicate question, one he had never asked before—permission.
When I didn't pull away from him, he received his answer. The kiss deepened, and he coaxed all the anger out of me. He drew it out as if sucking venom from an open wound. He kissed me so heatedly and lovingly that not even a drop remained. All that was left was a bottomless well of emotions of how much I loved and missed him.
When I came back into the moment, I heard the catcalls and yells from the people around us. It was then I remembered that we were in a crowded room, surrounded by people, and Grant had kissed the breath out of me. I flushed from head to toe at the attention, but he wouldn't let me pull away.
"I'm sorry," he whispered. "I shouldn't have blown up on you. I shouldn't have done anything. You're all that matters."
I stared up at him in confusion. "Who are you, and what have you done with Grant McDermott?"
He laughed that beautiful glorious laugh, and a smile lit up his whole face. It was that damn smile that had won me over in the first place.
"Run away with me," he murmured.
"What?"
"Run away with me. Let's get out of here."
"Where are we going?"
"Anywhere. Everywhere."
Take Me with You is the perfect conclusion for Grant and Ari's story… from the first page you feel the storm brewing for these two. It's a slow building storm and neither knows exactly why they are on edge but they both sense the foreboding and are walking around on eggshells. As elating as their reconciliation was, now that the dust has cleared they realize that the obstacles they face as a couple… her parents meddling, his father's resurfacing, the band signing and touring… all seem so big for a newly fissured relationship to withstand. Neither has the courage to come out and ask the hard questions so they avoid them and each other, pretending all is well. Can they handle the pressure? Are they ready for that level of trust and commitment?

Grant is his devilish charming self in this installment with a little added (and unexpected) fear mixed in. Fear of not being good enough for Ari. Fear of signing his life away with a recording contract. Fear of facing his father after all these years and of what he may do to him. Fear of not being able to protect Ari.

Ari however is not herself. The feisty direct girl who knows what she wants and demands she gets it is gone. She avoids Grants. She avoids her parents. She avoids her friends. She hides. It's frustrating for everyone especially us readers. What happened to our fearless heroine? Can she find that girl again?

I was extremely impressed with Grant. He fights hard to not give up and fall back into old habits and destructive behavior. His love and loyalty to Ari is a contradiction to his verging rock star lifestyle. Don't they party and cheat and sleep with groupies on tour? For all his insecurities, he fights his impulses hard and that just makes me love him more. Can he stay true? Will his efforts be thwarted by jealous musicians and skanky groupies? As for Ari, she finally shows us her human side. She is usually a rock, but I think this is the first time in her life she has cared so deeply for someone else and she is more than a little freaked out. This is the story of Grant trying to be what he needs for Ari AND his band mates and Ari trying to find the courage to let him. All the secondary characters fuel the drama (and hilarity) and what you get in the end is a hard fought battle of coming to terms with messed up family history and young wild love. Just what we all ordered right?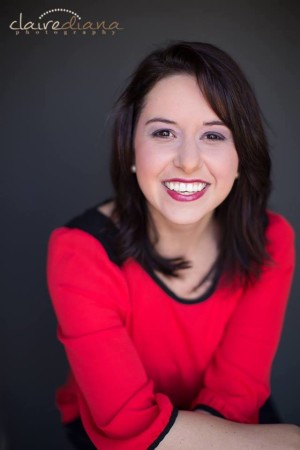 USA Today bestselling author K.A. Linde has written the Avoiding series and the Record series as well as the new adult novels Following Me and Take Me for Granted. She grew up as a military brat traveling the United States and Australia. While studying political science and philosophy at the University of Georgia, she founded the Georgia Dance Team, which she still coaches. Post-graduation, she served as the campus campaign director for the 2012 presidential campaign at the University of North Carolina at Chapel Hill. An avid traveler, reader, and bargain hunter, K.A. lives in Athens, Georgia, with her fiancé and two puppies, Riker and Lucy.
---
♥READ THE SERIES♥
Book 1 - Take Me for Granted
Book 2 - Take Me with You